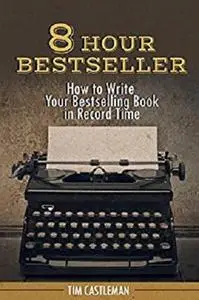 8 Hour Bestseller: How to Write Your Bestselling Book in Record Time by Tim Castleman
English | February 4, 2015 | ASIN: B00T8BXE32 | 59 pages | EPUB | 0.41 MB
Amazon Bestselling Author Tim Castleman is finally ready to share his 8 Hour Bestseller system so you can write your non fiction bestselling book in record time.
Before developing the 8 Hour Bestseller System, Tim Castleman struggled just trying to put his books and ideas together. Frustrated with the entire process, Tim hired a ghostwriter to help with first non fiction book and it failed miserably.
After that, Tim was forced to write his first book on his own and in less than 48 hours, despite having zero experience and a strong dislike for writing (you'll discover why when you read the book).
When you finish reading the 8 Hour Bestseller you'll be able to …
- Properly research your book idea before ever writing a word so you can be sure your book is going to sell massively prior to starting it
- Stop struggling to get your ideas out of your head and on to the page with Tim's 11 step checklist for authors
- Create amazing outlines that instantly increase your productivity and production so you can write more and faster than ever
- Use the same 5 step formula & format that Tim uses for all of his non fiction books. These 5 steps can change your writing forever
- Write at least 2,000 words an hour so you can finish your book in record time
- Create an endless supply of book ideas which will eliminate writers block forever
- Enjoy leveraging your first draft with the secret sauce method so you can create high value content to help your readers instantly while building your email list.
- Create an instant and rabid following in the process with one simple thing (which you can have done for less than $10)
- Get hundreds of real and honest reader reviews using the missing link strategy so you can sell more of your books
- Follow Tim's Book Launch Formula which helps push your book to bestselling status in less than 72 hours
- Scale up from zero to bestselling author in record time, faster than you thought possible, and easier than you ever imagined.
If you're tired of being overwhelmed, lacking in book ideas, or writing forever and still making no process, and not making any sales of your books - this book is for you.