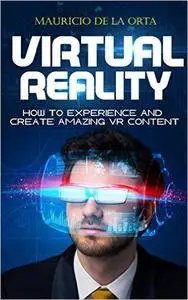 VIRTUAL REALITY: How to Experience and Create Amazing VR Content by Mauricio De la Orta
English | Jan. 24, 2016 | ASIN: B01B1C6SQA | 31 Pages | AZW3/MOBI/EPUB/PDF (conv) | 1.95 MB
After being talked about for the better part of a century and awkwardly being put into practice unsuccessfully in the 1990s, 2016 is looking promising as the year that virtual reality really takes off. With the Samsung Gear VR already on the market, and several additional major virtual reality devices releasing this year, it seems as though things went from no virtual reality to so many virtual reality devices it is hard to tell the apart practically overnight.
If you are interested in learning more about the state of virtual reality in 2016 but at the same time feel confused by the myriad of options seemingly sprouting up out of nowhere then Virtual Reality: How to Experience and Create Amazing VR Content may be just the book you are looking for. It starts by discussing the growth of virtual reality over the past twenty years before talking about what it means today and how that definition will change over the coming years. Then it discusses the pros and cons of the virtual reality devices currently on the market or those that will be soon. It then talks about the best ways to create virtual reality content before pointing out the best pieces of virtual reality content currently available and talking about the future of virtual reality and what is expected by industry leaders.
Inside you will find
• A comparison between the Samsung Gear VR, Nuvika VR Headset, the Oculus Rift, HTC Vive and PlayStation VR
• Computer requirements for the Oculus Rift
• Where to find the hottest virtual reality games
• And More…