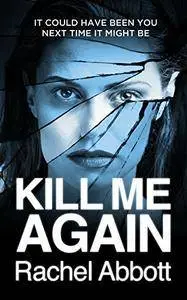 Kill Me Again: The gripping psychological thriller with a shocking twist by Rachel Abbott
English | 17 Feb. 2016 | ASIN: B01BCR2CDW | 348 Pages | EPUB | 508.77 KB
A fast-paced, edge of your seat psychological thriller that will take you on a rollercoaster right to the last page.
'Absorbing, complex, brilliantly planned.' – Suspense Magazine
'A properly addictive, leave-the-light-on thriller!' – Red Magazine
********
A woman is dead. She looks like you.
When Maggie Taylor calls her husband to say she is on her way home from work, she is horrified to discover that her two young children are alone in the house, abandoned by their father.
Duncan doesn't come home that night, or the next. Where he has gone, and why? All she knows is that he received a message on his phone just before he left - a text with a terrifying picture that only her eight-year-old son saw.
And then Maggie discovers she's not the only one looking for him. Who is he running from?
DCI Tom Douglas is brought in to investigate when a woman who looks just like Maggie is brutally murdered, and Maggie begins to realise how little she knows about her husband's past.
She doesn't have long to decide whether to trust him or betray him, because one thing has been made clear. Another woman will die soon, and it could be her.
********
Praise for Kill Me Again
'I was wowed by Kill Me Again on many different levels…' – Cleopatra Loves Books
"This one had me awake into the early hours….the twists and turns of the story absolutely gripped me – the pacing is relentless, the timing perfect – and at no point did I guess the unexpected and shocking conclusion. Edge-of-your-seat page turner certainly captures it for me. This was one of the best thrillers I've read in a while." - BeingAnneReading
"What an incredibly thrilling read this was… An absolutely brilliant book which left me feeling completely exhausted with a twist right at the very end that I NEVER saw coming at all!" - Kimthebookworm
'Darkly complex…full of mystery, intrigue and well-paced action…It is exciting and engrossing and kept me up well past bedtime. I'll be thinking about this story, and some of the issues it raises, for a long time. I believe it's the author's best book to date. Thoroughly recommended" - Goodreads reviewer
Praise for Rachel Abbott
'Rachel Abbott will keep you guessing long into the night, and just as soon as you've figured it out…think again!' - Suspense Magazine
'I was left speechless in the first chapter and couldn't put it down for hours. Rachel is amazing at building tension and keeping you turning page after page' - Crime Book Club
'Absorbing, complex and brilliantly planned. 10/10.' - Novelicious
'A properly addictive, leave-the-light-on thriller.' - Red Magazine