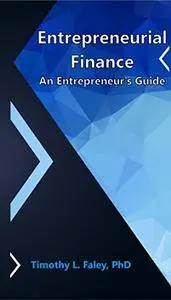 Entrepreneurial Finance: An Entrepreneur's Guide by Timothy L Faley
English | 1 Dec. 2016 | ASIN: B01N9CTHIU | 57 Pages | PDF | 1.8 MB
This brief book is a practical guide to entrepreneurial finance, specifically venture capital finance, designed specifically for the entrepreneur. Most treatises on venture investing are presented from the point of view of the investor. This short book is aimed at assisting the entrepreneur by helping level the playing field for the entrepreneur when dealing with venture investors. This guide first introduces the entrepreneur to the language of venture finance and to all the potential sources of funding for startup companies. It then delves into the venture capitalist's investment model. The information provided, and the Excel® models presented in this brief book, will allow the entrepreneur to both understand and estimate the potential exit value of their firm and how that relates to the firm's valuation at various venture investment stages; essentially allowing the entrepreneur to create a pro forma cap table for their firm. The Excel® models are available separately by contacting the author.