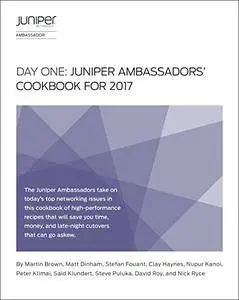 Day One: Juniper Ambassadors' Cookbook 2017 by Steve Puluka
English | 20 Mar. 2017 | ASIN: B06XRH9GRB | 239 Pages | MOBI | 1.57 MB
The Juniper Ambassadors take on today's top networking issues in this cookbook full of high performance recipes that will save you time, money, and late night cutovers that can go awry.
The Juniper Ambassador program recognizes and supports its top community members and the generous contributions they make through sharing their knowledge, passion, and expertise on J-Net, Facebook, Twitter, and other social networks. In their new Day One cookbook, the Juniper Ambassadors take on some of the top support issues and provide clear-cut solutions and frank discussions on how to keep things running. The recipes in this cookbook are meant to provide quick and tested solutions to everyday networking administration issues.
"Day One: Juniper Ambassadors Cookbook 2017 covers several complex networking problems and solutions, working with technologies such as EVPN, VXLAN, OSPF sham links, centralized route reflectors, scripted automation with Python, segment routing, and BGP flow spec. Using Junos OS configuration stanzas and command line output analysis, each recipe is demonstrated in detail. The format is perfect for network engineers, explaining each problem and then diving deeply into the solutions." - Ethan Banks, Co-Founder of Packet Pushers Interactive,
http://packetpushers.net
IT'S DAY ONE AND YOU HAVE A JOB TO DO, SO LEARN HOW TO:
* Configure basic QoS on Junos-enabled devices.
* Migrate from a Cisco LNS to vLNS on a Juniper vMX Series.
* Configure BGP to advertise multiple paths to destinations.
* Utilize VXLAN technologies with EVPN signaling.
* Use OSPF as a PE-CE routing protocol in MPLS VPNs.
* Script network regression testing with Junos PyEZ.
* Selectively leak resources (or subnets) between different VPNs.
* Integrate MX Series routers into Arbor Networks SP.
* Migrate your core to centralized route reflecting and segment routing.