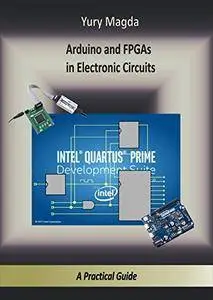 Arduino and FPGAs in Electronic Circuits: A Practical Guide by Yury Magda
English | 22 Jul. 2017 | ASIN: B07465D4D3 | 73 Pages | AZW3 | 2.48 MB
Today many developers and hobbyists designing electronic devices and systems use a popular Arduino platform. Numerous measurement and control systems based upon Arduino have already been designed and will be designed in future. One more approach for designing electronic systems is to use FPGAs. With FPGAs, a developer can build high-performance digital circuits operating in real time with minimal latencies.
Using Arduino together with FPGAs can effectively improve performance of control and measurement systems. Such combination allows to implement concurrently running algorithms thus improving the performance of a whole system. This book provides the collection of examples that illustrate designing software and hardware interfaces between the popular Arduino Zero, Arduino M0 Pro boards and FPGAs. These Arduino boards use the Atmel's SAMD21G18 microcontroller featuring a 32-bit ARM Cortex® M0 core that offers excellent potential to create most imaginative and new ideas for high tech automation. Additionally, these Arduino boards operate with signal levels of 3.3V that allows to directly connect I/O pins to FPGAs.
It is assumed that the readers have a general understanding of the FPGAs, the basic concepts of programmable logic and Verilog and/or SystemVerilog. It is also assumed that the readers have basic skills in electronics and can assemble the simplest circuits. For designing digital circuits with FPGAs, we will use a core FPGA board equipped with a Cyclone IV EP4CE6E22C8 FPGA. To develop the applications with the FPGA, we will use free Intel Quartus® Prime 17.0 Light Edition software (also referred to as the Quartus® Prime Design Suite) running in Windows 10. This software can also run in the earlier versions of Windows. All Arduino Zero applications are developed in Arduino IDE 1.8.3.