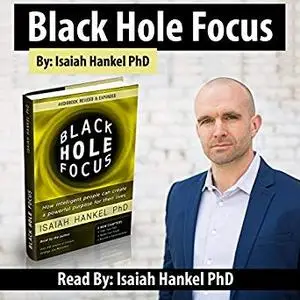 Isaiah Hankel (Author, Narrator), "Black Hole Focus: How Intelligent People Can Create a Powerful Purpose for Their Lives"
ASIN: B0784TTNW9 | 2017 | M4B@62 kbps | ~03:52:00 | 105 MB
Don't get stuck on a career path you have no passion for. Don't waste your intelligence on something that doesn't really mean anything more to you than a paycheck. Let Isaiah Hankel help you define a focus so powerful that everything in your life will be pulled towards it.
Create your purpose and change your life. Be focused. Be fulfilled. Be successful.
Black Hole Focus has been endorsed by top names in business, entrepreneurship, and academia, including four times New York Times best seller AJ Jacobs and Harvard Medical School Postdoc Director Dr. Jim Gould.
The book is broken up into three different sections; the first section shows you why you need a purpose in life, the second section shows you how to find your new purpose, and the third section shows you how to achieve your goals when facing adversity.
In this book, you will learn:
How to understand what you really want in life and how to get it.
Why people with a powerful purpose live to 100.
How to rapidly improve focus and change your life using the secret techniques of an international memory champion.
How people like Jim Carrey, Oprah Winfrey, and J.K. Rowling transformed pain into purpose.
How to start a business by avoiding willpower depletion and the life hack lie.
Black Hole Focus includes exclusive case studies from medical practitioners, research scientists, lawyers, corporate executives, and small business owners who have used the techniques described in this book to achieve massive success in their own lives.