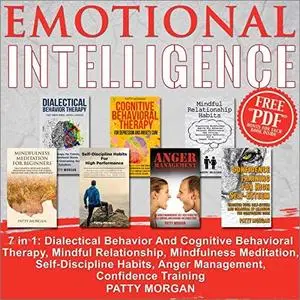 Emotional Intelligence: 7 in 1: Dialectical Behavior and Cognitive Behavioral Therapy, Mindful Relationship, Mindfulness Meditation, Self-Discipline Habits, Anger Management, Confidence Training [Audiobook] by Patty Morgan
English | April 30, 2019 | ASIN: B07R2DPT1B | M4B@128 kbps | 22h 28m | 1.2 GB
Narrator: Tracey Norman
This seven-book bundle includes powerful collection of books on different topics related to your mental health, your emotional health as well as your communication skills and personal relationships. If you struggle with any area of your personal or professional life, this seven-book bundle can help. Inside you will find valuable cognitive behavioral and dialectical behavior therapy strategies and self-help guides to help you deal with painful, often times destructive emotions and feelings.
Inside you will discover:
What are emotions and how they affect your mental health state
What is dialectical behavior therapy and how it can help you boost your emotional intelligence
What is cognitive behavioral therapy and how it works
How cognitive behavioral therapy can help you deal with depression and panic attacks
How mindful relationship habits can help you enhance your personal relationships
How to solve any relationship conflict with mindful relationship habits
What is mindfulness meditation and how it can help you reduce stress and find inner peace
How to boost your self-confidence with simple confidence training
Your simple anger management self-help guide for calming emotional storms
Valuable self-discipline habits to help you boost your productivity
And much much more….
Get this book now, and learn how to enhance every area of your life from your relationships and emotional intelligence to your professional and personal growth!