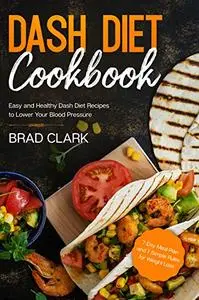 Dash Diet Cookbook: Easy and Healthy Dash Diet Recipes to Lower Your Blood Pressure. 7-Day Meal Plan and 7 Simple Rules for Weight Loss by Brad Clark
2019 | ASIN: B082582W2K | English | 110 pages | EPUB | 0.45 MB
Discover the secret to reclaiming your health with a natural, diet-based approach to losing weight with the Dash diet!
Have you been newly diagnosed with PCOS, but aren't sure how your life and diet is going to change from here on out? Are you completely stymied by the lack of delicious alternatives to your favorite meals? Do you want a delicious change of menu to help you lose weight despite your insulin condition?