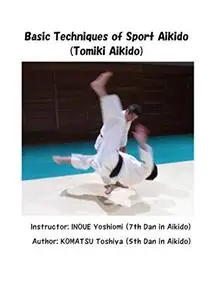 Basic Techniques of Sport Aikido (Tomiki Aikido)
By Toshiya Komatsu , Yoshiomi Inoue
English | 2020 | ASIN : B089QTMFWS | 209 Pages | PDF | 35 MB
This book contains practise methods, basic techniques and terms of Tomiki Aikido. Kenji Tomiki received instruction from Jigoro Kano and Morihei Ueshiba and gained 8th dan both in Judo and Aikido. He created Tomiki Aikido (Kyogi Aikido) and established the Japan Aikido Association. This book is written and translated into English by Toshiya Komatsu (5th dan) under the instruction of Yoshiomi Inoue (7th dan), and also supported by Eddy Wolput (Shihan, 7th dan) and Paul Wildish (7th dan) in translation. All techniques illustrated in this book are explained with photographs of Yoshiomi Inoue in action. This book targets beginners but is useful for skilled practitioners who participate in competitions as it describes the application of randori type combinations and suwari waza.