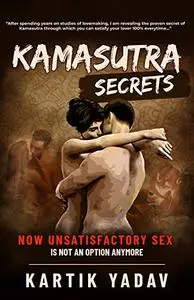 Kamasutra secrets: Now reveal secrets of Kama sutra with pictures - love , sexual pleasure and sex positions by Kartik Yadav
English | 2020 | ASIN: B08B3CBQ25 | 37 Pages | PDF | 8.59 MB

The world's oldest and most widely read guide to the pleasures and techniques of sex, the Kama Sutra was compiled around fourth century A.D. by Vatsyayana. In this book, you will learn all necessary Kamasutra secrets that you need to spice up your sexual relationship. As Old Kamasutra has a lot of methods which are not useful today like letter sending is today replaced by chat and call. So Kamasutra secrets is written in a way that every line of it is useful for you.
What you will learn:
- Images to help you understand in a better way than theory.
- This Kamasutra book is straight to the point GUIDE. I am sharing those methods or details only that are useful in today's world which you can apply in your own life.
- We will discuss about sex positions, angles, how to make love and a lot more.
-Techniques designed to stimulate and satisfy your lover
-The benefits of Kamasutra, like how it can make your life better.
-How to start kissing and initiate your lovemaking sessions
-How you can arouse your partner even more.
- Communication into your lovemaking
How to experiment with different approaches, and bringing incredible passion into your relationship
A variety of sexual positions in Kamasutra or kama sutra
And much, much more..