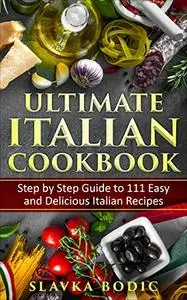 Ultimate Italian Cookbook: Step by Step Guide to 111 Easy and Delicious Italian Recipes (World Cuisines Book 3) by Slavka Bodic
English | 2020 | ASIN: B08BK7FSMK | 142 pages | PDF | 1 MB
Think Italian food is just about pizza? Think again!
This jam-packed cookbook features 111 authentic Italian recipes, without a pizza in sight! Focusing on the unique flavor pairings and authentic ingredients that have made Italian food an international sensation, the Ultimate Italian Cookbook showcases the best that Italy has to offer.
Learn to combine the richness of vine-ripened tomatoes with hearty beef and beans to create comforting dinner dishes for the colder months; or delight in the summer freshness of light frittatas filled with delicate ham, spinach or zucchini. For dessert, be inspired by nutty flavors, coffee beans and creamy ricotta for the perfect finish to any meal!