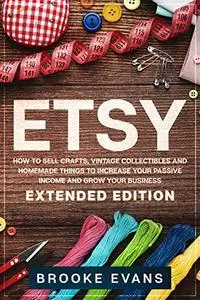 Etsy: Extended Edition: How to Sell Crafts, Vintage Collectibles and Homemade Things to Increase Your Passive Income and Grow Your Business by Brooke Evans
English | ASIN : B08BKXTSCZ | 2020 | 203 pages | EPUB, AZW3 | 0.64 MB
Discover how to build the perfect Etsy store and kick-start your passive income today!
Have you heard about the highly lucrative world of e-commerce, but you're not sure where to begin? Do you want to sell your DIY and homemade crafts or collectables? Are you looking to generate passive income and boost your financial security? Then this audiobook is for you.
Etsy is a revolutionary money-making opportunity that has surged in popularity in recent years. Built around the concept of e-commerce, Etsy allows anybody to set up a store and start making money. But if you want to succeed, you need the right knowledge.
This complete guide breaks down the fundamentals of Etsy, offering you the insights you need to take advantage of this rapidly growing trend. Whether you need help setting up your shop and giving it the right look, mastering SEO for huge traffic, or creating the best products to sell, this audiobook has you covered.
Here's what you'll discover inside:
The most important things to keep in mind when selling on Etsy
Step-by-step strategies for setting up the perfect store
Common beginner mistakes to avoid at all costs!
Tips and tricks for building your brand and creating an eye-catching store banner
Mastering the art of SEO to drive near-unlimited traffic to your store 
The best ways to handle reviews (and how negative reviews can actually help you)
How you can pick the perfect business
The art of business plans (and why you should be using them)
Must-know metrics for evaluating if your products are selling well
Tips and tricks for mastering social media and building an online presence
How to cut costs, scale up, and make more money!
How dropshipping can take your income to the next level
And a ton of different passive income ideas for financial freedom!
Whether you want to create a lucrative side-hustle, make a little extra money, or build your dream business and full-time job, the secret to all this and more lies in mastering Etsy. Don't miss out on this incredible opportunity - now you can discover exactly what you need to know to become an Etsy pro!