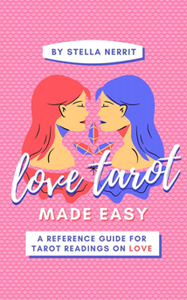 Love Tarot Made Easy : A Reference Guide for Tarot Readings on Love
by Stella Nerrit
English | 2021 | ASIN: B08HLDJRC4 | 194 Pages | ePUB | 5.7 MB
Have you ever asked yourself, "Where is my relationship heading?", "How do they feel about me?", or "How can I improve my relationships?"
This book will help you answer all of these questions and more by teaching you how to use the tarot for love. Love Tarot Made Easy is a reference guide that covers all 78 tarot cards and their meanings (upright and reversed), and how they can be interpreted for love.
This easy, practical guide will also teach you:
- Tarot Fundamentals such as how to prepare for readings, how to approach the tarot for love, and how to interpret multiple cards in one spread
- Sample Questions to ask during your tarot readings to get you started
- Tarot Spreads that are fun and easy to use
If you want to support my blog, then you can buy a premium account through any of my files (i.e. on the download page of my book). In this case, I get a percent of sale and can continue to delight you with new books!