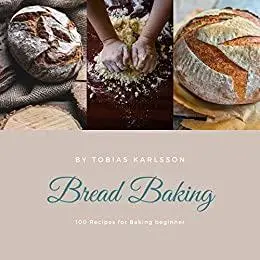 Bread Baking: 100 Recipes for Baking beginner
By Tobias Karlsson
English | 2020 | ASIN : B08K9CJJQP | 148 Pages | EPUB | 5.5 MB
In this cookbook, you will see 100 recipes to create bread, from delicious crusty bread to traditional sourdough and country loaves.
Artisan bread is a huge deal for several reasons, but what I am aware for several is that artisan bread gets the very best flavor, texture, and aroma.
Making artisan bread is not only easy but also very satisfying and joyful.
Preparing all the ingredients and kneading them in to a dough is an authentic salve for your soul.
When you observe the dough rises, it's real magic.
There are so many method of preparing artisan bread, the majority of them quite time-consuming,
but what I'll demonstrate listed here are simple techniques to ensure that you can enjoy making bread every day as well as your family can enjoy it for breakfast, lunch, and dinner.