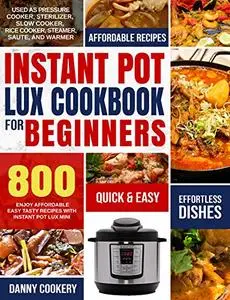 Instant Pot Lux Cookbook For Beginners : Enjoy Affordable Easy Tasty Recipes With Instant Pot Lux Mini Used As Pressure Cooker, Sterilizer, Slow Cooker, Rice Cooker, Steamer, Saute, and Warmer
By Danny Cookery
English | ASIN : B08MVTW51Y | 2020 | 138 pages | EPUB | 3.1 MB
The Instant Pot Lux Pressure Cooker is an energy saving and innovative cooking appliance that has been made using the latest technology and that allows you to use it in six different ways. It saves your energy consumption by up to 70% and cuts down your cook time by the same ratio.
We have created amazing recipes that are going to change your approach to food in the most beautiful way. Below are the recipe categories you will find:
Breakfast,
Red Meat Recipes,
Poultry Recipes,
Seafood Recipes,
Vegan & Vegetarian Recipes,
Soups, Stews and Broths,
Rice, Multigrain and Porridge,
Beans and Eggs,
Snacks and Desserts,
Saute Recipes. Etc.