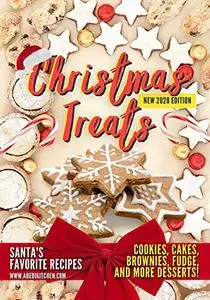 Christmas Treats: Christmas Cookies, Cakes, Brownies, and Desserts! | New 2020 Edition
By Hannah Abedikichi , Arrmon Abedikichi
English | 2020 | ASIN : B08PXTDBV8 | 50 Pages | PDF | 20 MB
❤️ Christmas Treats and Desserts ❤️
Makes a fantastic Christmas cookbook or stocking stuffer for holiday fun, parties, and family events!
Christmas is here! It's the most special time year for family and friends. There is nothing better than the smell of holiday treats in the air while gathering around the Christmas tree with family and friends. This Christmas treats cookbook is perfect for creating fun and festive holiday treats for the entire family. Kids will especially love helping to make these delicious treats!
Inside you will find a full-color and delightful Christmas treats cookbook filled with every recipe you need to take your Christmas party or gathering to the next level. These desserts are wonderful for any party. Everything from Christmas cookies, brownies, fudge, bark, cakes, and more holiday desserts. Kid tested – Mother approved!
Here's a few of the Christmas treats:
Santa's Favorite Cookies
Chocolate Peppermint Cookies
Snowball Cookies
Gingerbread Cookies
Christmas Star Cookies
Christmas Tree Brownies
Santa Hat Brownies
Peppermint Bark
Chocolate Almond Cranberry Bark
Old Fashioned Chocolate Fudge
Candy Cane Fudge
Peanut Butter Fudge
Christmas Macarons
Cornflake Christmas Wreaths
Reindeer Pretzel Rods
Peppermint Brownie Cake Pops
Santa Pancakes
Christmas Tree Pancakes
Orange Cranberry Scones
Cranberry Orange Bread
Christmas Cake
Full-Time Mom, Best-Selling Author, and Lover of Food
Hannah Abedikichi is a best-selling author that knows a thing or two about cooking! Cooking and experimenting with foods is her life passion. Driven by her desire for cooking for others (and herself), Hannah spends a lot of time in the kitchen. She enjoys sharing her love of food with the world by creating "no-nonsense" recipe books that anyone can use. You can find cooking tips, advice, and recipes on her blog (see link in book, author bio, or search for Abedikitchen).