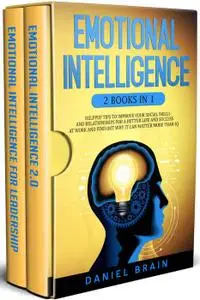 Emotional Intelligence: 2 Books in 1 - Helpful Tips To Improve Your Social Skills And Relationships For Better Life And Success At Work And Find Out Why It Can Matter More Than IQ by Daniel Brain
English | 2021 | ASIN: B08SL55XGR | 185 pages | EPUB, PDF(conv) | 0.2 MB, 0.9 MB
How much do you want to know yourself?
Emotional intelligence is what you need to live better and relate to others.
Would you like to know how to increase your leadership skills?
Emotions cannot be completely divorced from our personal and professional life because humans are not robots. It is abundantly clear that emotional intelligence is a huge factor for leadership success.
In the corporate world, a leader must develop his or her decision-making skills.
Nevertheless, for you continuously progress in the direction of your goal as a leader, it is crucial for you to be in the driver's seat of your emotions.
The ability to understand and appropriately respond to emotions, overcome stress, and be aware of your words and actions and how they affect others is the only path towards becoming the effective leader you always wanted to be.
This guide will focus on the following:
• A brief history of emotional intelligence
• Components of emotional intelligence
• The impact of emotional intelligence
• Emotional intelligence at home
• Emotional intelligence and emotional leadership
• Emotional intelligence at work
• Leadership and conflict management
• Motivating people