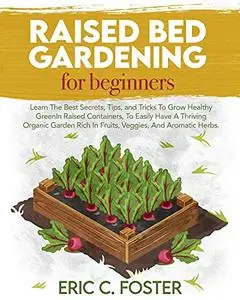 Raised Bed Gardening for Beginners: Learn The Best Secrets and Tricks To Grow Healthy Green In Raised Containers, To Easily Have A Thriving Organic Garden Rich In Fruits, Veggies, And Aromatic Herbs by Eric Foster
English | 2021 | ASIN: B095CC87SP | 84 pages | EPUB | 3.58 MB
Would you like to be able to grow organic fruits, vegetables, and aromatic herbs even if you don't have a big garden, or you're not the best gardener out there?
Then this book is perfect for you.
One of the best things about raised bed gardening is surely the ability to grow your greens anywhere, even if you don't have a garden. All you need is at least 8-10 hours of sun a day to make sure that your plants grow rich and healthy.
Within this guide, you will learn how to start creating your raised bed garden from scratch, and you will learn what are the best tips and tricks to make sure that you get a great, big harvest, in fact, by reading this book you'll discover:
Why You Should Choose Raised Bed Gardening, so that you can clear your mind of any doubt or question that you might have on the subject, and understand why raised bed gardening Is the solution that you are looking for
What You Need To Do Before Starting, so that you can know everything you need to know before starting to build your own raised bed cultivation
How To Set-Up Your Raised Bed, so that you can have a step-by-step guide that will show you what materials you need to start the set-up process of your raised beds, to be able to build them without any problem
How To Fill The Raised Bed, so you will know what are the best plants to plant, and when it's the best period to plant them so that you won't waste time, money, and passion by planting out of season greens
How To Take Care Of Your Pants, thanks to a dedicated chapter that will reveal to you how you need to water your plants, how much and when you need to use your fertilizers and pest control, and more advanced soil enrichments, so that you can be sure to give all the right nutrients to your greens
The Best Way To Extend The Growing Season, so that you can take advantage of every trick in the book to keep your veggies growing, while others are using up the last of the season's veggies
… & Much More!
Give this book a try, and discover the joy of cultivating delicious organic fruits and vegetables.
Just follow the advice within this book and you will cut expenses while enjoying incredibly good, healthy, and homemade greens, so…