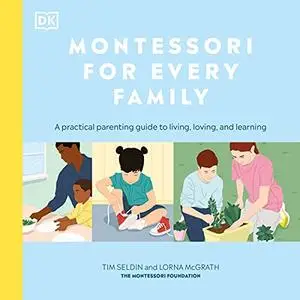 Montessori for Every Family A Practical Parenting Guide
by DK, Tim Seldin, Lorna McGrath
English | 2021 | ASIN: B098BM9VNP | Duration: 06:07:02 | MP3@64 kbps | 168.21 MB
The Montessori method is gaining popularity, and for good reason - it is eminently child-centered and is focused on laudable values such as curiosity, independence, and respect. Research shows that Montessori-schooled children are calm, confident, and intelligent and grow up to become responsible, community-minded, emotionally intelligent adults. The world needs more such people!
But Montessori has been criticized as elitist - Montessori nurseries and schools are oversubscribed and expensive, and books that show you how to apply the principles at home suggest an overhaul of your house as you set it up to suit your child's play and learning needs. But the Montessori approach has the potential to bridge the world's inequality gap - instilling values such as respect and fairness among peers - it should be open to all.
This audiobook makes Montessori accessible to everyone. It outlines the key principles that underpin the approach succinctly and makes applying them immediate and practical for the average time-poor working parent. It provides quick, simple, and accessible ways to ensure that your child's environment is a stimulating one. It also explores the family values that Montessori instils and how the way in which you parent and your approach to relationships can encapsulate these. Your child may not attend a Montessori school, but your family can still live by Montessori principles.
This book shows you precisely what you can do and say in the moment at the times of day you connect with your child - at school or nursery drop off, after-school time, play time, meal times, homework time, and bedtime. It also shows you that it is never too late to introduce Montessori methods to your child. You can apply the principles at any age and enjoy life-changing results.
This is the only Montessori book to recognize that most parents do not have the time and resources to overhaul their lives to fully embrace a parenting philosophy but instead need practical, immediate guidance that is effective in the moment. Everyone can create magical Montessori moments every day - this book shows you how.
The coronavirus lockdown is showing many of us how ill-equipped we are to look after and teach our own children, but it is also sparking a renewed desire to understand and learn how parenting can be more mindful, conscious, and connected.
Tim Seldin is president of the Montessori Foundation and chair of the International Montessori Council. He is one of America's most respected Montessori educators and authors and a regular keynote speaker at conferences around the world. He is a past director of the Institute for Advanced Montessori Studies and conducts regular webinars on Montessori education.
Lorna McGrath is the Montessori Foundation's Montessori Family Alliance director. Lorna works directly with parents and children and is an experienced course leader and communicator.