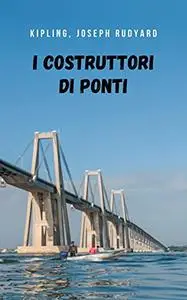 I costruttori di ponti: Una storia di fiction storica che ti catturerà
Italiano | 2021 | ASIN: B099BGK3GG | 167 Pages | EPUB | 0.5 MB
I costruttori di ponti è il secondo capitolo della raccolta di storie che Kipling ha raggruppato sotto il titolo di Every Day's Work, e costituisce uno straordinario ciclo narrativo per l'esaustività e la bellezza del linguaggio e la grandezza letteraria della compagnia, come Kipling ha si proponeva di esprimere la sua fede nel lavoro utile che gli uomini dell'Impero stavano svolgendo nella loro guerra civilizzatrice contro ciò che era rimasto al di fuori della civiltà, che per Kipling era "il vuoto". Così, The Builders of the Bridge descrive le vicissitudini e la dedizione degli inglesi e dei nativi a gettare un ponte sul Gange, sebbene la decisione finale sulla sua distruzione o permanenza appartenga agli dei. Guglielmo il Conquistatore racconta di una donna dal carattere splendido e del suo lavoro in una regione dell'India devastata dalla carestia.007 è la storia di una piccola locomotiva al suo primo giorno di lavoro, che teme di non riuscire a far fronte alla fatica affidato a te. Bread on the Waters si concentra sul lavoro quasi eroico degli uomini per mano di una compagnia di navigazione gestita da ebrei che costringe uomini e macchine oltre il limite di ciò che è tollerabile. Un delegato itinerante è una favola sul mondo dei cavalli, e racconta come un cavallo piuttosto pigro e irascibile cerchi di instillare nei suoi gentili compagni equini un rivoluzionario atteggiamento sindacale di confronto con l'uomo.