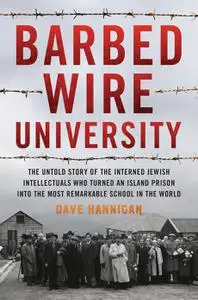 Barbed Wire University: The Untold Story of the Interned Jewish Intellectuals Who Turned an Island Prison into the Most Remarkable School in the World by Dave Hannigan
English | October 15th, 2021 | ISBN: 1493057707 | 232 pages | True EPUB | 3.95 MB
Barbed Wire University tells the extraordinary tale of Winston Churchill's internment of some of the most gifted Jewish refugee writers, professors, artists, and painters of their generation in a camp on the Isle of Man in the Irish Sea. These were men who had fled Hitler's Germany, found refuge in Britain, and then, in the hysteria of 1940, were held in captivity as a perceived security threat. They turned the camp—Hutchinson Camp—into a school, concert hall, and artistic community.
Using memoirs and diaries, some of which have only recently become available in archives, Dave Hannigan pieces together a richly detailed account of what these remarkable men did during their time in captivity. This is a forgotten corner of World War II, and the way these men constructed a Bohemian idyll in the middle of the Irish Sea, their freedom taken from them, is an extraordinary tale of grit and creativity.
Enjoy
My Blog.
No any convert or low quality!