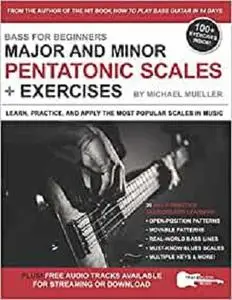 Bass for Beginners: Major and Minor Pentatonic Scales + Exercises: Learn, Practice & Apply the Most Popular Scales in Music by Michael Mueller
English | February 28, 2021 | ISBN: N/A | ASIN: B08XJJXTZ2 | 72 pages | PDF | 5.20 Mb
Are you ready to learn, practice & apply the most popular scales in music?
Bass for Beginners: Major and Minor Pentatonic Scales + Exercises
is the ultimate intro to bass pentatonic scales!
Why take the time to learn bass pentatonic scales? Because it will set you up for success with all the other playing you want to learn. Melodies will become more intuitive and less difficult when you know the scales behind the music.
Real-World Bass Lines!
This how-to bass book is divided into 20 practice sessions, each featuring an important major or minor pentatonic or blues scale pattern. From Michael Mueller, author of the hit book
How to Play Bass Guitar in 14 Days,
this title is packed full of important bass pentatonic scales, exercises & bass lines.
To help you learn these essential patterns, each session of this beginner bass guitar book puts a pentatonic scale through five exercises and then applies it to a real-world bass line in either a rock, pop, or funk style, among others.
You'll find 20 daily practice sessions in this bass pentatonic scales book for learning:
Open-Position Patterns
Movable Patterns
Major and Minor Blues Scales
Real-World Bass Lines
Includes multiple keys and more!
Beginner bass guitar lesson exercises include:
Chromatic Scales
Arpeggios
Rhythms
Real-World Bass Lines
Experience the Troy Nelson Music difference:
You will always know who our authors are—we are proud of them & call them by name. Nothing to hide here.
Contact our authors any time, with any questions about what you are learning, and we will quickly get back to you with an answer. We want you to have the best learning experience possible!
Contact our Customer Support via our website if you have any questions about audio files or need any other support. We are here for your entire learning-to-play-bass-guitar journey.
All scales, exercises, and bass lines are presented in easy-to-understand fretboard diagrams and rhythm tab so you, the beginner, can quickly apply the material to your instrument!
Read it! Hear it! Play it!
Music examples are presented in fretboard diagrams and tab. This practical, step-by-step guide to beginning bass guitar includes quick-and-easy access to audio tracks via download or streaming—right from troynelsonmusic.com. No signup required!
About Michael Mueller: Over the past 20 years, Michael Mueller has authored over 20 instructional guitar books, with over 400,000 units sold. Titles include the #1 New Releases How to Play Bass Guitar in 14 Days, How to Play Ukulele in 14 Days, and Bass for Beginners: Major and Minor Scales + Exercises, as well as Christmas songbooks for ukulele and bass guitar. In addition, Michael has written the Hal Leonard Rock Guitar Method, Acoustic Guitar Tab Method, and Scale-Chord Relationships. He has also edited countless others, including the top-selling Guitar Aerobics (Troy Nelson) and Ukulele Aerobics (Chad Johnson) titles. Additionally, he has served as the Editor at top guitar magazines Guitar One and Guitar Edge, and contributed to Guitar World, Jazz Times, and Sirius XM, among others.



Feel Free to contact me for book requests, informations or feedbacks.
Without You And Your Support We Can't Continue
Thanks For Buying Premium From My Links For Support