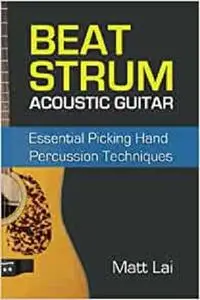 Beat Strum Acoustic Guitar: Essential Picking Hand Percussion Techniques by Matt Lai
English | June 20, 2021 | ISBN: N/A | ASIN: B0979YVRD3 | 99 pages | MOBI | 5.59 Mb
Are You a Soloist, Singer-Songwriter or Acoustic duo? Do you want to achieve a more energetic and impactful performance with your steel-string acoustic guitar?
Look no further! Welcome to the world of
Beat Strum - Essential Picking Hand Percussion Techniques
. This handbook is a must have for anybody who shares a passion for the
acoustic guitar, played with a pick
. The concepts and principles introduced are
simple to follow
and will help you perform your favourite or own songs with much higher musical intensity compared to traditional playing methods. Purchase this
Beat Strum book
,
master the techniques
and you and your audience will
experience a more rewarding and enjoyable performance
.
Perfect for Intermediate and Advanced level guitar players
In this Beat Strum Acoustic Guitar Handbook you will discover: -
The core principles behind Beat Strum
Identifying where the percussive tones exist on the acoustic body
Breaking down the physical movements needed
Essential sequences to get you started and the approach for creating your own
Brief insights to live performances
What is included:
Over 70 pages of simple to follow steel string guitar lessons
Beautifully illustrated photos and rhythm patterns which accompany the lesson descriptions
Unique playing tips and secrets from over 25 years of guitar playing experience
Detailed hand diagrams showing the motions and percussion techniques
Additional: Bonus video content to help you master the Beat Strum technique
Feel Free to contact me for book requests, informations or feedbacks.
Without You And Your Support We Can't Continue
Thanks For Buying Premium From My Links For Support