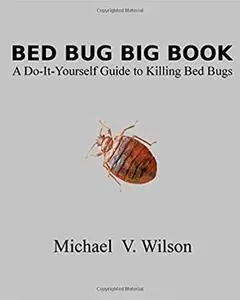 Bed Bug Big Book: A Do-It-Yourself Guide to Killing Bed Bugs by Michael V Wilson
English | March 29, 2019 | ISBN: 1732025940 | 26 pages | AZW3 | 0.50 Mb
Michael V. Wilson is the Scribe of Texas. He's also the bug man, the critter gitter, a licensed pest control professional in the state of Texas for 14 years, killing termites, roaches, fleas, and yes - bed bugs.
Sleep tight and don't let the bed bugs bite
That used to be just a bedtime saying parents told their children. It didn't really mean anything, it was just an old saying, and for a long time most people thought that's all it was. A lot of people even thought bed bugs were just a made-up name for a fictional insect that wasn't real.
Well, bed bugs are real. They're blood-sucking parasites and they're very hard to get rid of. They're also expensive to get rid of. In 2016 (the latest year for which figures are available) bed bug services were estimated to have cost over $600 million a year, and by 2020, that figure is projected to rise over $1 billion.
And guess where most of that money is coming from? That's right, it's coming out of your pocket because when bed bugs invade your home,
you're
the one who's going to shelling out the big bucks to get rid of them. If you can find a pest control company who only charges $300 per room to kill them for you, you're getting a fantastic, cut-rate deal. In a five-room house it would only cost you $1500 (plus tax) to "get-R-done."
Wait, what's that you say? You don't have $1500 just laying around to spend on bed bugs? Well, that's where this book comes in.
I spent 14 years killing bugs in Texas. I can walk you through it step-by-step, showing you exactly what to get, how to use it, where to use it - the whole nine yards. And I can walk you through it because I've done it myself, over and over and over until I got sick and tired of it.
If you follow the simple steps outlined in this book, you'll wipe out the bed bugs in your house and save a ton of money in the process. You'll still have to spend some money getting the pesticides (I'll tell you which ones work best), a pump-up sprayer, and a few safety items (you're dealing with chemicals after all) but it will be a fraction of the cost of paying someone like me to come in and do it for you.
Get this book, read it, follow the steps, and you'll be bug free in a matter of weeks!