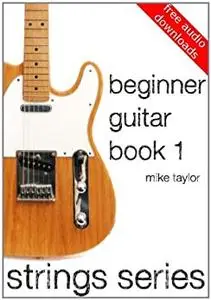 Beginner Guitar Book 1 by Mike Taylor
English | 2012 | ISBN: N/A | ASIN: B004RIQAK0 | 98 pages | Rar (PDF, AZW3) | 2.08 Mb
Strings Series Music Books pride themselves on providing clear, concise and professional music tuition books. Our aim is to teach you what you need to know; no quick fixes and everything is presented with clear explanations, diagrams.
Beginner Guitar Book One (1 of 3)
Beginner Guitar Book One has been written with the complete beginner in mind. This isn't a quick fix book- you'll be set up with all you need to start playing guitar in a clear, concise and steady way.
You'll find no nonsense explanations illustrated with clear photographic examples and informative diagrams. There are free downloadable audio files which range from a spoken explanation of a technique to an original backing track song.
Here's what you'll learn in Book One
•Guitar anatomy.
•Whether to use pick or fingers.
•Tuning and using a metronome.
•You'll learn to read Tab.
•You'll learn E, A, D, C and G major. E minor, A minor and D minor. E7, A7, D7, C7, G7 and B7 as well as F major 7.
•How to play along with the backing tracks available free from stringsseriesmusic.co.uk
•Suggested "real" songs to listen to and learn- all matched to your level of progression.
Feel Free to contact me for book requests, informations or feedbacks.
Without You And Your Support We Can't Continue
Thanks For Buying Premium From My Links For Support