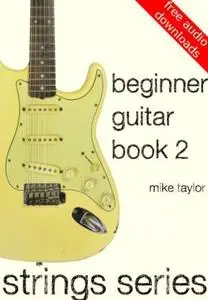 Beginner Guitar Book 2 by Mike Taylor
English | 2012 | ISBN: N/A | ASIN: B004RJ3Q7O | 92 pages | Rar (PDF, AZW3) | 2.10 Mb
Strings Series Music Books pride themselves on providing clear, concise and professional music tuition books. Our aim is to teach you what you need to know; no quick fixes and everything is presented with clear explanations, diagrams and audio.
Beginner Guitar Book Two (2 of 3)
Beginner Guitar Book Two guides you through the next steps of becoming a more confident guitar player.
The explanations are clear and concise with pictorial examples and accompanying audio tracks to download. There are more song lists to choose from as your knowledge base grows and a selection of chord based songs with recorded examples.
Here's what you'll learn in Book Two
•Specialised warm-ups to build finger strength and accuracy.
•Strumming rhythms and songs to practice with.
•The Minor Pentatonic Scale.
•Lead guitar licks complete with backing tracks.
•Techniques include string bending, hammer on, pull off and lots more.
•Barre chord technique and theory.
•How to play along with the backing tracks (free from stringsseriesmusic.co.uk).
•Suggested "real" songs to listen to and learn- all matched to your level of progression.
•Explanations regarding the music theory behind each technique.
Feel Free to contact me for book requests, informations or feedbacks.
Without You And Your Support We Can't Continue
Thanks For Buying Premium From My Links For Support