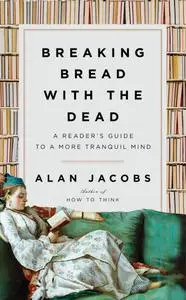 Breaking Bread with the Dead: A Reader's Guide to a More Tranquil Mind by Alan Jacobs
English | September 8th, 2020 | ISBN: 1984878409 | 192 pages | EPUB | 1.00 MB
From the author of HOW TO THINK and THE PLEASURES OF READING IN AN AGE OF DISTRACTION, a literary guide to engaging with the voices of the past to stay sane in the present
W.H. Auden once wrote that "art is our chief means of breaking bread with the dead." In his brilliant and compulsively readable new treatise BREAKING BREAD WITH THE DEAD, Alan Jacobs shows us that engaging with the strange and wonderful writings of the past might help us live less anxiously in the present—and increase what Thomas Pynchon once called our "personal density."
Today we are battling too much information, a society changing at lightning speed, algorithms aimed at shaping our every thought—plus a sense that history offers no resources, only impediments to overcome or ignore. The modern solution to our problems is to surround ourselves only with what we know and what brings us instant comfort. Jacobs' answer is the opposite: to be in conversation with, and to be challenged by, those from the past who will tell us what we never thought we needed to know.
What can Homer teach us about force? How does Frederick Douglass deal with the massive blind spots of America's Founding Fathers? And what can we learn from modern authors who engage passionately and profoundly with the past? How can Ursula K. Le Guin show us truths about Virgil's female characters that Virgil himself could never have seen? In BREAKING BREAD WITH THE DEAD, a gifted scholar draws us into close and sympathetic engagement with texts from across the ages, including the work of Anita Desai, Henrik Ibsen, Jean Rhys, Simone Weil, Edith Wharton, Amitav Ghosh, Claude Levi-Strauss, Italo Calvino, and many more.
By hearing the voices of the past, we can expand our consciousness, our sympathies, and our wisdom far beyond what our present moment can offer.
Enjoy
My Blog.
No any convert or low quality!