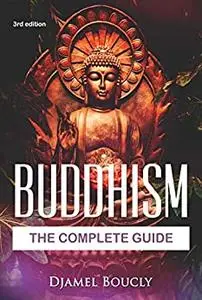 Buddhism : The Complete Guide Of Buddhism: Everything You Need To Know To Practice Buddhist Teachings In Your Everyday Life by Djamel Boucly
English | July 4, 2016 | ISBN: 153497850X | 94 pages | EPUB | 0.21 Mb
If you are thinking about practicing Buddhism or if you already do this book is a good starting place to learn about all of its most basic tenets. As you go through this introduction to Buddhism, you will find answers to the questions:- Where did Buddhism start?- Who is the Buddha?- Why did the Buddha find a need for this practice?- What are the most common Buddhist traditions?- What is the difference between Theravada, Mahayana, and Vajrayana Buddhism?- What does Buddhism look like in different parts of the world?Buddhism explains inequality and injustice. It gives us the purpose of life, while providing a moral code and way to lead a life filled with zen and happiness.This book is aimed at people wanting to learning about Buddhism. In this book I'll discuss the basic principles and tenets of Buddhism, Buddhist teachings and Buddhist rituals, along with how you can incorporate Buddhism into your daily life.
Feel Free to contact me for book requests, informations or feedbacks.
Without You And Your Support We Can't Continue
Thanks For Buying Premium From My Links For Support