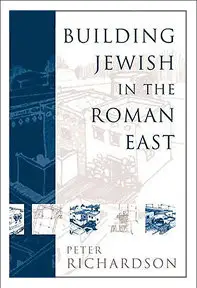 Peter Richardson, "Building Jewish In The Roman East"
Publisher: Brill Academic Publishers | 2004-11-30 | ISBN 9004141316 | PDF | 414 pages | 4.2 MB
Archaeology has shown the riches of ancient Jewish buildings in Jerusalem, Judea, Galilee, and throughout the Mediterranean. The time is right for a book on ancient Jewish architecture. Building Jewish in the Roman East first surveys the architecture of small rural villages in Galilee, concentrating on the early Roman period, before examining the development of synagogues as "Jewish associations" within Roman society. Finally, Building Jewish in the Roman East explores Jerusalem's flurry of building activity under Herod the Great in the first century BCE. Richardson's careful work not only documents the material culture that forms the background to any study of Second Temple Judaism and early Christianity, but it succeeds in demonstrating how architecture itself, like a text, conveys meaning and thus directly illuminates daily life and religious thought and practice in the ancient world.