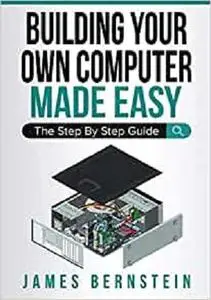 Building Your Own Computer Made Easy: The Step By Step Guide (Computers Made Easy) by James Bernstein
English | January 1, 2019 | ISBN: 1791955568 | 131 pages | EPUB | 7.11 Mb
Everyone has to get a new computer at some time or another so why not get the computer you always wanted? Sure you can buy a nice computer off of the store shelf but you never really get exactly what you want that way. When you build your own computer, you are in charge of what components are going to be used so you know that it will perform the way you want it to.
The goal of this book is to help you choose the parts (components) for your new computer so you can end up with a computer that does what you want it to do. Then you will be taken through the build process with step by step instructions and illustrations making it easy to get your new computer up and running in no time. Finally you will be guided through the process of installing an operating system on your computer so you can start enjoying your work.
The chapters in the book cover the following topics:
Chapter 1 – Why Build Your Own Computer?
Chapter 2 – Choosing Components
Chapter 3 – Planning Your Build
Chapter 4 – Putting the Pieces Together
Chapter 5 – Initial Power Up
Chapter 6 – Installing Your Operating System
Feel Free to contact me for book requests, informations or feedbacks.
Without You And Your Support We Can't Continue
Thanks For Buying Premium From My Links For Support