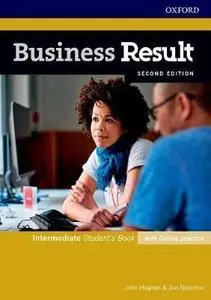 Business Result Intermediate + 2nd Edition
(Student's Book + Audio CDs, Interactive Workbook on CD-ROM)
+Teacher's Book
2008-2018 | PDF+WMA+MP3+MP4+ISO | 632 pages | ISBN: 9780194768009 9780194768078 9780194737791, 9780194737876, 9780194737911 | 3.39 GB
With its communicative syllabus, authentic business material, and expert tips from a leading management school, plus interactive multi-media, Business Result helps students learn the communication skills they need for work quickly and effectively.
Key features
* Communicative syllabus gives students business skills and language they can pick up and use straight away.
* Real-world case studies deliver authentic insights into key business issues.
* The Expert View - from Cranfield School of Management - provides expert, authoritative commentary on every case study.
* Interactive Workbook on CD-ROM includes tests and exercises, plus a phrase bank, email templates, a business glossary, and extra reference material so students can personalize their learning for the workplace.