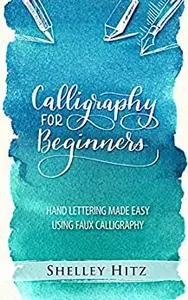 Calligraphy for Beginners: Hand Lettering Made Easy Using Faux Calligraphy by Shelley Hitz
English | June 17, 2018 | ISBN: N/A | ASIN: B07DT8VR9J | 62 pages | Rar (PDF, AZW3) | 5.03 Mb
Over 100 Positive Reviews on Amazon
Would you like to learn calligraphy or hand lettering the easy way? Calligraphy is a hobby that can bring you so much joy, but it can also be very frustrating to learn in the beginning.
I know from experience. In the summer of 2016, I decided to learn hand lettering to create coloring pages for my book, Broken Crayons Still Color. I watched every video I could find and tried all the recommended techniques. However, no matter what I did, even with the best of pens, my lettering looked horrible.
Let's admit it: Learning calligraphy is not as easy as some of the artists online make it look.
And I was frustrated.
I continued my research and discovered faux calligraphy. I decided to use it, along with block lettering, to create my hand-drawn coloring pages.
What is Faux Calligraphy?
Faux calligraphy is fake calligraphy. In my opinion, it is the easiest way to get started. You can achieve a beautiful outcome almost right away, even with your own handwriting.
In this book,
Calligraphy for Beginners
, I will walk you through the steps of how to get started as well as the mistakes to avoid.
In calligraphy, your letters will have thick downstrokes and thin upstrokes. With faux calligraphy, you simply add the thickness to your downstrokes after you write the letters. It's a three-step process you'll learn in chapter three.
Traditional calligraphy and brush lettering require months of consistent practice to train your hand and develop the muscle memory required to achieve the thick and thin strokes.
Even after years of practice, I continue to improve every day. And, honestly, I notice the difference in my lettering if I don't practice consistently for several weeks.
Therefore, if you want to achieve a beautiful outcome right away or need to use lettering for a project immediately (like I did), faux calligraphy is a great way to get started.
It's a fun way to add text to coloring pages and create beautiful artwork, hand-lettered cards, bookmarks, and so much more.
Bonus
: As a bonus to this book, you get free access to my faux calligraphy online class ($39 value). To make it as easy as possible for you, I filmed a video demonstrating every letter in the alphabet. Plus, you can download my practice sheets to print off for reference and blank practice sheets for your own lettering.
Feel Free to contact me for book requests, informations or feedbacks.
Without You And Your Support We Can't Continue
Thanks For Buying Premium From My Links For Support