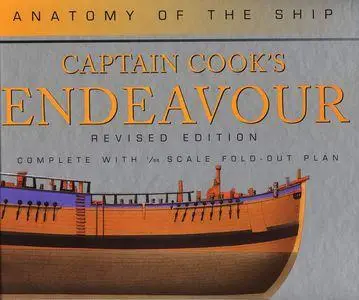 Karl Heinz Marquardt - Captain Cook's Endeavour
Conway Maritime Press | 2001 | ISBN: 0851778968 | English | 134 pages | PDF | 237.55 MB
Anatomy of the Ship, Revised Edition
The Endeavour, made eternally famous by Captain Cook's first voyage in her in 1768-71, was originally the collier Earl of Pembroke and was chosen by Cook for his voyage because of her strong construction. She was purchased by the Royal Navy at Whitby and then converted to an exploration ship at Deptford. After her voyage she was sold out of service in 1775, and finally condemned sometime in the 1790s. This revised edition features accurate, visually exciting and totally comprehensive drawings. In addition to these, a colour representation of Endeavour on the jacket provides a useful painting guide, on the back of which is a beautifully folded large scale plan of the ship. The 'Anatomy of the Ship' series aims to provide the finest documentation of individual ships and ship types ever published. What makes the series unique is a complete set of superbly executed line drawings, both the conventional type of plan as well as explanatory views, with fully descriptive keys. These are supported by technical details and a record of the ship's service history. Karl Heinz Marquardt is an internationally known ship modeller and has spent a lifetime researching the era of the sailing ship. He is an accomplished draughtsmen and has illustrated a number of highly praised maritime books.