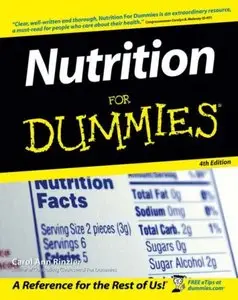 Carol Ann Rinzler - Nutrition For Dummies 4th Edition
For Dummies | 2006 | ISBN 0471798681 | Pages: 383 | PDF | 5.10 MB
Contains new information on the recommended daily allowances a healthy body needs
Get the facts on good nutrition, slim down, and feel great
Good nutrition is the key to a healthy weight and lifelong good health. But with more and more food choices available in today's supermarkets and restaurants, how do you make sure you and your family are eating right? Now updated to cover the latest guidelines and research, this friendly guide is just what you need to make the right food choices every day.
Discover how to
* Interpret nutrition labels
* Distinguish "good" carbs and fats from "bad"
* Prepare delicious, healthy meals
* Keep nutrients in food, even after cooking
* Eat smart when eating out
* Evaluate dietary supplements