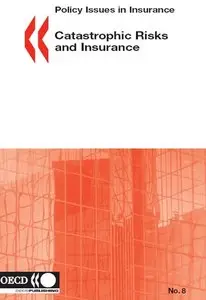 Catastrophic Risks and Insurance
Proceedinds Policy Issues in Insurance, No.8
OECD | July 2005 | ISBN: 9264009949 9789264009943 9789264009950| 424 pages | PDF | 2 MB
These proceedings present leading academic analysis as well as government and private sector information and experience-sharing on how governments and the financial and insurance sectors can deal with losses caused by terrorism, atmosperic perils, and other large-scale risks.
This volume provides a selection of papers and reports presented at the conference.
The combination of leading academic analysis, and information and experience sharing by governments and private sector representatives involved in the financial management of catastrophe risks, makes this publication a unique reference tool.
Table of Contents
Part I. Insurability of Catastrophic Risks
Chapter 1 Some Aspects of the Economics of Catastrophe Risk Insurance
Chapter 2 Industrial, Technological and Other Catastrophes
Chapter 3 Recent Trends in the Catastrophic Risk Insurance / Reinsurance Market
Chapter 4 Insurance of Atmospheric Perils – Challenges Ahead
Chapter 5 National Security and Compensation Policy for Terrorism Losses
Chapter 6 Current State of the Coverage for War and Terrorism Risks in Aviation Sector
Chapter 7 Terrorism Insurance : An Overview of the Private Market
Part II. Financial Markets Solutions to Manage Catastrophic Risks
Chapter 8 Current Challenges in the Securitization of Terrorism Risk
Chapter 9 Financing Disaster Risks in Developing and Emerging Economy Countries
Chapter 10 The Potential for New Derivatives Instruments to Cover Terrorism Risks
Chapter 11 Catastrophic Risk Securitization: Moody's Perspective
Part III. Role of Government and Public-Private Partnerships for Catastrophic Risks Management
Part III.A. Analytical and Comparative Reports
Chapter 12 Comparative Analysis of Large Scale Catastrophe Compensation Schemes
Chapter 13 Rapid Onset Natural Disasters: the Role of Risk Financing in Effective Catastrophe Risk Management
Chapter 14 Designing a Disaster Insurance Pool Participatory and Expert Approaches in Hungary and Turkey
Part III.B. Country Surveys – OECD Countries
Chapter 15 The French Experience in the Management and Compensation of Large Scale Disasters
Chapter 16 Disaster Risk Management in Japan
Chapter 17 Natural Disasters Fund (FONDEN)
Chapter 18 The Spanish Experience in the Management of Extraordinary Risks, Including Terrorism
Chapter 19 The Turkish Catastrophe Insurance Pool (TCIP) and Compulsory Earthquake Insurance Scheme
Chapter 20 Natural Disasters and Disaster Relief Policy in China
Chapter 21 Disaster Management in India
Chapter 22 Management of Extraordinary Risks, Including Terrorism, in India Achievements and Perspectives
Chapter 23 Earthquake Risk Management Policy in Indonesia
Chapter 24 Disaster Risk Management Policy in the Philippines
Annex 1 List of Speakers and Presentations at the Conference
with TOC BookMarkLinks