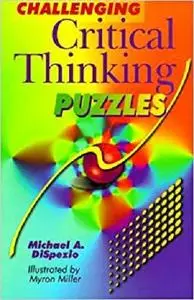 Challenging Critical Thinking Puzzles by Michael A. DiSpezio
English | June 30, 1998 | ISBN: 0806931868 | 96 pages | PDF | 17 Mb
Finish layouts, do tricky calculations, and solve the complex mysteries of visual designs. Take a scissors and try to duplicate a "mind-bending" curved design with just a few snips. For a change of pace, find the identity of 30 coins that equal $1.00.
(25 pennies, 1 nickel, 2 dimes and 2 quarters.)
Answers are in the back–in case you're tearing your hair out in frustration!
Feel Free to contact me for book requests, informations or feedbacks.
Without You And Your Support We Can't Continue
Thanks For Buying Premium From My Links For Support