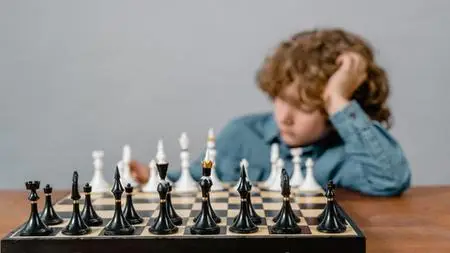 Chess Tactics For Advance Beginners By Afm Rajat Malik
Published 8/2022
MP4 | Video: h264, 1280x720 | Audio: AAC, 44.1 KHz
Language: English | Size: 1.11 GB | Duration: 1h 7m
AFM RAJAT MALIK
What you'll learn
After Completion kid will have good knowledge about Forcing moves.
Kid knows about all the basic tactics used in a game frequently.
Be able to exploit opponent tactical weaknesses.
Will be ready for next level.
Requirements
Kid should know basics of chess.
Kid should have a Chess board for Practice.
Kid should have a Chessbase reader to start practicing the tactics which is given in Pgn.
Description
This course is designed for Beginner player who knows about basics of Chess right from beginner, pieces names, values, symbols, Castle, Stalemate,  En-passant, Opening fundamentals.Once you complete my 1st course then you can go for this course this course have basic tactics that a advance beginner kid should know to go to next level.We will be discussing1.Introduction about the course.2.What are forcing moves.3.Double Attack4.Pinning5.Types of Pin.6.Deflection.7.Skewer8.Deflection9.Decoy10.DiscoveriesAfter completing the course your tactical ability will improve a lot you will be able to understand a position very welland know when to use tactics in your game. You will know How to calculateForcing moves:- checks, captures, threats.Will be able to play tactical games easily.Recognize key pattern and weaknesses.You will be able to win material if opponent makes any tactical blunders.Tactics is very important if you have learned just basics than comes strategy part later, so make sure you practice a lotand improve your calculation and visualization skills first, than you can go in next level. This is all basic tactics that every Advance beginner level kid must know to improve his level and go to intermediate level Thanks for buying this course if you do like my course and want any videos course on any particular topic please do let me knowI will make a course on that and also please rate so that I can improve on anything, also comment below for any help or any suggestions.Goodbye.
Overview
Section 1: Chess Tactics for Advance Beginner.
Lecture 1 Introduction
Lecture 2 Forcing Moves.
Lecture 3 Double Attack
Lecture 4 Pin
Lecture 5 Types of Pins
Lecture 6 Skewer
Lecture 7 Deflection
Lecture 8 Decoy
Lecture 9 Discoveries
Lecture 10 Double Check
Beginner level or Advance Beginner level who have basic knowledge about chess.