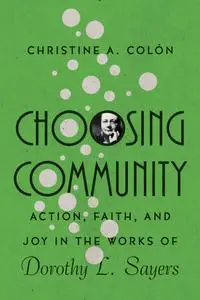 Choosing Community: Action, Faith, and Joy in the Works of Dorothy L. Sayers (Hansen Lectureship) by Christine A. Colón
English | October 15th, 2019 | ISBN: 083085374X | 152 pages | EPUB | 4.81 MB
Few writers in the twentieth century were as creative and productive as Dorothy L. Sayers, the English playwright, novelist, and poet. Her justly renowned works include detective fiction featuring Lord Peter Wimsey, theological reflections, literary criticism, and her translation of Dante's Divine Comedy.Among the prominent themes of her work was the need for and challenges of developing community.
Sayers, who was herself an active member of various writing groups throughout her lifetime, offers her readers visions of both fractured and harmonious communities.In this third volume in the Hansen Lectureship Series, Christine Colón explores the role of community in Sayers's works. In particular, she considers how Sayers offers a vision of communities called to action, faith, and joy, and she reflects on how we also are called to live in community together.The Hansen Lectureship series offers accessible and insightful reflections by Wheaton College faculty members on the transformative work of the Wade Center authors.
Enjoy
My Blog
. No any convert or low quality!