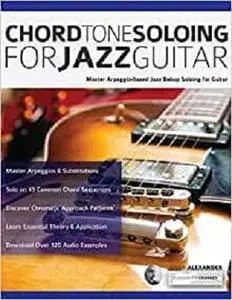 Chord Tone Soloing for Jazz Guitar: Master Arpeggio-Based Jazz Bebop Soloing for Guitar by Mr Joseph Alexander
English | April 1, 2019 | ISBN: 1789330580 | 122 pages | EPUB | 7.40 Mb
Easily Master Jazz Guitar Soloing
Quickly learn how to solo over the 13 most common chord progressions in jazz guitar using arpeggios, substitutions and chromatic approaches.
Learn to apply jazz guitar arpeggios and scales musically
Are you struggling to learn jazz guitar?
Are you aware of "playing the changes", but don't know how to strategically practice?
Do you want to use jazzy arpeggios to sound musical and nailing the changes every time?
Discover Jazz Arpeggios, Extensions and Substitutions to Enrich Your Playing
Jazz guitar can be a challenging style of music to learn.
As guitarists we are often more comfortable playing scales rather than the true building blocks of jazz solos; arpeggios, so it can be difficult for us to emulate and build an authentic bebop language.
Chord Tone Soloing for Jazz Guitar teaches you to how to use arpeggios, extensions, chromatic ideas and substitutions over each of the 13 essential jazz sequences, and how to combine these building blocks into authentic, melodic solos.
There are many different bebop chord progressions, but in essence they can be broken down into just 13 simple structures.
Each progression is approached both logically and methodically to build articulate guitar solos from the fundamental principles of jazz guitar. By applying arpeggio-based techniques, and learning to decorate your solos with chromatic ideas, you will quickly learn how to 'play the changes' in a musical and creative way.
Chord Tone Soloing for Jazz Guitar helps you build an articulate jazz language around the most important sequences in jazz.
You'll learn these essential jazz guitar soloing skills
Targeting chord tones
Essential arpeggios to outline the chords
How to connect arpeggios with scales
How to add chromatic passing notes for a truly jazz flavour
Arpeggio extensions and alterations to add colour and depth.
A complete understanding of the 13 core chord sequences in jazz
How to use substitutions and altered dominant approaches
How to practice jazz guitar musically and effectively
Feel Free to contact me for book requests, informations or feedbacks.
Without You And Your Support We Can't Continue
Thanks For Buying Premium From My Links For Support