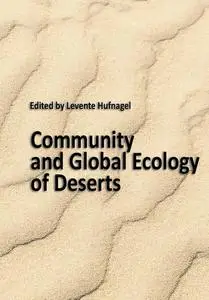 "Community and Global Ecology of Deserts" ed. by Levente Hufnagel
ITExLi | 2019 | ISBN: 1789238943 9781789238945 1789238935 9781789238938 | 102 pages | PDF | 5 MB
The aim and purpose of our book, Community and Global Ecology of Deserts, is to give an overview and report from the frontiers of desert ecological research. The book will be interesting and useful for researchers, lecturers, students and anybody interested in this field.
The ecology of deserts as a scientific discipline plays a key role in solving many of global problems due to collective adaptation methods and approaches of lifeforms living in extreme environments.
If ecologists or environmental scientists are talking about desert ecological research, then almost everyone is thinking about specific desert flora, fauna, or desertification itself as a consequence of climate change, or sand dune-triggered disasters. In fact, the importance of ecological research in deserts is far more general and broader.
Contents
1.Introductory Chapter: Global Aspects and Scientific Importance of Desert Ecological Research
2.The Impact of Desertification Dynamics on Regional Ecosystem Services: A Case Study of Inner Mongolia (China)
3.Behavioral and Reproductive Strategies of Porcellio Species (Oniscidea) in Tunisian Pre-Desert Ecosystems
4.Ecological and Environmental Assessment of Nara Desert Wetland Complex (NDWC), Khairpur, Sindh-Pakistan
5.Sand Electrification Possibly Affects the Plant Physiology in Desertification Land
1st true PDF with TOC BookMarkLinks