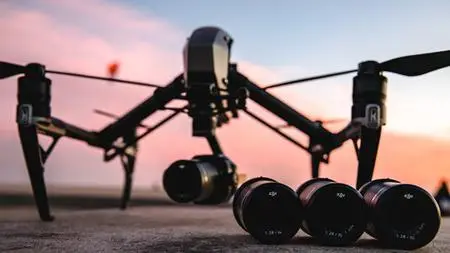 Complete Guide To Flying Dji Inspire 1 And 2
Published 6/2022
MP4 | Video: h264, 1280x720 | Audio: AAC, 44.1 KHz
Language: English | Size: 1.19 GB | Duration: 1h 6m
What you MUST know before flying a DJI Inspire series drone
What you'll learn
Basic information of the DJI Inspire 1 and 2 drones
Learning the DJI go and DJI go4 app settings and what they do
Basic functions of the Inspire series drones from DJI
Operating Accelerated Heights patented payload release system (drop kit)
Modifications, warnings and Signal strength understanding.
Requirements
Basic knowledge of flying a DJI drone
Description
DJI Inspire series drones, Inspire 1 and Inspire 2 are a much different animal. They can be easily crashed if not prepared. This course will serve as a basic, VERY BASIC course to set you up and the different settings you MUST set before you fly your drone, We will also go over the different apps used in flying the inspire 1 which will be the DJI Go app, and the Inspire 2 which is the DJI Go4 app. Other apps are available such as DJI Pilot, Litchi etc, We will not be covering those apps in this video as this is meant for the absolute beginner or someone that has never flown the Inspire series drones or maybe confused as to the basic functions as well as some other features like payload release etc. The DJI apps have settings such as RTH or (return to home) that must be set in case your drone loses connection, there are settings on the controller that can affect how the drone flys, we will show the difference between the Inspire 1 and Inspire 2 drones, their payload capacity, compare the advertised flight times, as well as how to do the simple task of putting the drone into and out of "travel mode".Also we will touch on the common modifications such as NFZ or (no fly zone) mod, altitude limits, signal or range boosting and why you may want these types of mods. Also we will go over some very basic techniques that you can do while flying to increase your signal just by holding the controller correctly. After market antennas and the different options available,We will also go over the legal side of drone operations, registration of drones etc. I know…the boring stuff..but we have to.
Overview
Section 1: DJI Inspire 1 and 2 drones and their differences.
Lecture 1 What differences are there between Inspire 1 & 2 drones?
Section 2: DJI app settings you MUST know.
Lecture 2 DJI Go app for Inspire 1 settings
Lecture 3 DJI Go4 app for Inspire 2 settings
Section 3: Basic start up operation. Turning drone on, connecting cameras etc.
Lecture 4 How to start an Inspire 1 drone
Lecture 5 How to start an Inspire 2 drone
Section 4: Modifications available
Lecture 6 NFZ mods and signal boosting
Section 5: Payload capacity and using a drop kit.
Lecture 7 Payload capacities of the Inspire 1 & 2 drones, How to operate drop kits
Lecture 8 Inspire drop video and use
Section 6: Thank you
Lecture 9 Thanks for the purchase of this course. and here are some useful links
Lecture 10 Useful Links!
Anyone looking for information on DJI go and DJI go4 app for Inspire 1 and 2 drones.