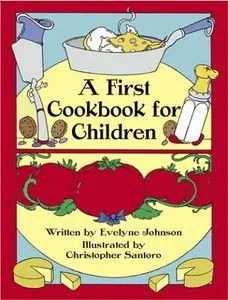 Evelyne Johnson, Christopher Santoro, "A First Cookbook for Children"
Publisher: Dover Publications | 1983 | ISBN: 0486242757 | 48 pages | epub | 3 MB
Simple, easy-to-follow instructions with clear explanations of ingredients and utensils take children through each phase of food preparation and actual cooking. Helpful introduction includes a basic list of necessary ingredients and equipment, cooking hints, and sample menus. Total of 60 recipes: pizza, hamburgers, salads, cookies, cakes, macaroni and cheese, much more.