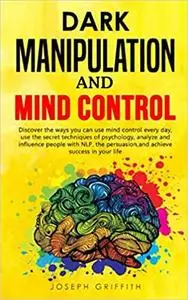 Dark Manipulation and Mind Control: Discover ways you can use Mind Control every day, use the Secret Techniques of Psychology, Analyze and Influence People with NLP, and Persuasion… by Joseph Griffith
English | January 28, 2021 | ISBN: N/A | ASIN: B08VCN6BMC | 150 pages | Rar (PDF, AZW3) | 0.55 Mb
Does the idea of mind control fascinate you?
Do you want to know the techniques of Dark Psychology?
Do you think someone is using manipulation methods to manage your actions?
If this is the case, this is the book for you!Here's some of the information included in the book:
✅ Manipulation and Mind Control
✅
Is Manipulation Always Wrong?
✅ Mind control techniques
✅
7 Powerful Covert Emotional Manipulation Techniques
✅ NLP Techniques and Their Implications
✅
How NLP Is Used in Relationships
✅ Hypnosis
✅
How Brainwashing Occurs
✅Using Mind Control in Relationships
✅
Mind Control in the Workplace
✅ How to Tell If You Are Emotionally Manipulated
…And much more!
Manipulation delves deep into the nitty-gritty and exposes the world of dark psychology to shed new light on human behavior. Dark psychology is powerful, ubiquitous, and the missing tool that you need to have an advantage in everyday life.
Imagine that you could win almost any argument, turn people to your way of thinking, or control situations to your own advantage, all while making sure that others do not hold the same power over you.