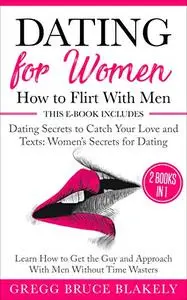 Dating for Women: How to Flirt With Men: 2 Books in 1 Dating Secrets to Catch Your Love and Texts: Women's Secrets for Dating. Learn How to Get the Guy and Approach With Men Without Time Wasters by Gregg Bruce Blakely
English | September 2, 2019 | ISBN: 1690014571 | 189 pages | EPUB | 0.70 Mb
If You Want to Change Your Love Life, Learn How to Get the Guy You Deserve and Approach with men without Time Wasters then keep reading.
Are you tired of getting your heart broken over and over again? Exhausted trying every dating strategy and piece of advice you can get, yet still, the kind of man you've always wanted in your life seems to slip out of your grasp. Are you tired of asking yourself the following questions after every failed date?
Why do they treat me badly?…
Why do I always end up getting hurt?…
Why won't he commit to me?….
The one answer that links all these three questions together is this: You're not choosing the RIGHT man.
If you're wondering how to conquer your man and win his heart right from the start through texting alone, Dating for Women: How to Flirt With Men is the book you've been searching for. An insightful guide that not only helps you navigate the nuances and challenges brought on by texting and technology but also gives you the confidence needed to show your man your high-quality and self-worth from the first few texts alone even if you haven't met for your first official date yet.
Here's what you're about to arm yourself with as you peruse through these next few chapters:
• What men really seek in the woman of their dreams
•
How to earn his respect and keep it
• Why communication is the key to relating to your man
•
Why you need to keep your standards as high as your heels
• Effective ways you can put his trust to the test
•
What communication mistakes you need to avoid
• Smart dating rules every woman should follow
•
How to decode his text and read the real meaning behind what he's saying
• How to drive him crazy with texts so good he'll find it hard to resist your charms
•
How to make him laugh and smile over text
• How to gain his respect over text
•
How to ignite the romance online and keep it going
• The BIGGEST texting mistakes that every woman needs to avoid
•
And much more…
Do you want to know what's the best part? EVERY woman can adopt these strategies. Everyone, because this book is about leveraging on your existing strengths and applying them in just the right way so it works to your advantage.