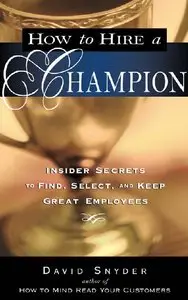 David P. Snyder - How to Hire a Champion: Insider Secrets to Find, Select, and Keep Great Employees
Career Press | 2008 | ISBN: 1564149641 | Pages: 256 | PDF | 1.28 MB
Meticulously outlining an arsenal of cutting-edge tools and strategies tied to predicting performance and a "passion for excellence," David Snyder has developed what may be a paradigm shift in our understanding of the way high-performing individuals can be identified, selected, and professionally coached. Drawing on Snyder's interviews with a team of performance and hiring experts nationwide, How to Hire a Champion will help all leaders to build:
* A better model and process for selecting and retaining high-performing individuals.
* Stronger teams and a customer-centered, results-driven culture.
* A self-directed "culture of greatness" where top performers and top managers in all departments help and inspire each other.
Thanks to original uploader!

Do you know only a small part of all books is visible on the AvaxHome Homepage (@ Home)?
To see all of them use
eBooks
category.
If you enjoy my books look at my
…::No mirrors, please::…