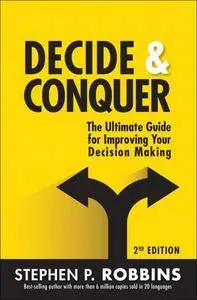 Decide and Conquer: The Ultimate Guide for Improving Your Decision Making, 2nd Edition by Stephen P. Robbins
English | October 30th, 2014 (2015 Edition) | ISBN: 0133966739, 9780133966732 | 224 Pages | True PDF | 1.18 MB
Make better decisions - every day, everywhere! Decide and Conquer, Second Edition brings together all the practical skills you need to do just that. This quick, concise book identifies every key obstacle to quality decision-making and shows exactly how to overcome them. You'll discover how your personality impacts your decision-making, why instincts and experience can lead you astray, how to simplify complex decisions without oversimplifying them and much more.
Renowned management author Dr. Stephen P. Robbins translates cutting-edge research findings about human behavior and decision-making into language anyone can understand - and "act upon."
In this Second Edition, he provides many new and updated examples, updated research, and new coverage, including these crucial new topics:
• Are you a Maximizer or a Satisficer - and what it means for your decision-making
• Overcoming the familiarity bias, adaptation bias, and fear-of-loss bias
• How to stop throwing good money after bad
• Knowing when doing "nothing" is your best option
• Accounting for gendered decision-making styles
Decide and Conquer, Second Edition covers everything from goal-setting and risk-taking to overconfidence to procrastination, and offers indispensable insights for overcoming the multiple biases that are built into all human decision-makers.
You'll use Robbins' powerful techniques to improve every decision you make - about your relationships, career, finances, "everything!"