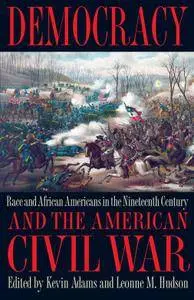 Democracy and the American Civil War: Race and African Americans in the Nineteenth Century by Kevin Adams
English | October 14th, 2016 | ASIN: B01LXR42EI, ISBN: 1606352695 | 120 Pages | EPUB | 0.57 MB
In 1865, after four tumultuous years of fighting, Americans welcomed the opportunity to return to a life of normalcy. President Abraham Lincoln issued his emancipation decree in January 1863 and had set the stage for what he hoped would be a smooth transition from war to peace with the announcement of his reconstruction program in December 1863 and with his call of "malice toward none and charity for all" in his Second Inaugural Address in March 1865. Lincoln's dream of completing the process of reconstructing the nation was cut short just one month later by the hand of an assassin.
The essays in this volume—by Adams and Hudson along with Stanley Harrold, John David Smith, Mitchell Snay, and Fay Yarbrough—represent an exemplary collection on the importance of democracy and race during and after America's most devastating conflict. Ranging from a consideration of antebellum abolitionists to the racial policies adopted by Native American tribes that had allied with the Confederacy to the ambiguous legacies of Reconstruction, these chapters are thoroughly researched, persuasively argued, and beautifully crafted. Democracy and the American Civil War is a compelling examination of black Americans and their quest for citizenship rights in the face of violence and ostracism.
As volume coeditor Leonne Hudson points out in his introduction, Lincoln's actions were significant steps on the road toward the fulfillment of the democratic tenets contained in the foundational documents of the Declaration of Independence and the Constitution. By the end of the Civil War, President Lincoln had come to realize that individual freedom was an inalienable right. Furthermore, he believed that in a democratic nation all men were not only entitled to freedom but to equality as well. Although African Americans had played an unforgettable role in helping to preserve the Union, they found their path to full democracy littered with political and legal obstacles that would bedevil them for decades.
This collection enriches our understanding of democracy, race, and the Civil War, and it reminds us that the historical importance of democracy and the complexity of race are topics with which we should continue to engage.