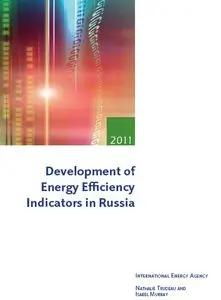 "Development of Energy Efficiency Indicators in Russia 2011" by Nathalie Trudeau, Isabel Murray
IEA Energy Papers
OECD, IEA | 2011 | ISBN: n/a | 55 pages | PDF | 1 MB
The key findings of the IEA work with Russia on developing energy efficiency indicators form the core of this report.
Russia is sometimes referred to as "the Saudi Arabia of energy efficiency"; its vast potential to reduce energy consumption can be considered a significant "energy reserve". Russia, recognising the benefits of more efficient use of energy, is taking measures to exploit this potential.
In the past few years, the IEA has worked closely with Russian authorities to support the development of energy efficiency indicators in Russia, critical to an effective implementation and monitoring of Russia's ambitious energy intensity and efficiency goals.
Table of contents
Acknowledgements
Executive summary
The data situation in Russia to develop indicators
Introduction: the use of indicators to unravel the complexity of energy consumption
Industry sector
Availability of industry data in Russia to develop indicators
Key indicators for the industrial sector
Residential sector
Availability of residential data in Russia to develop indicators
Key indicators for the residential sector
Service sector
Availability of service data in Russia to develop indicators
Key indicators for the service sector
Transport sector
Passenger transport sector
Freight transport sector
Conclusions and next steps
Annex A. The IEA indicator approach
The benefits of the IEA approach
The IEA indicator pyramid
Annex B. The IEA methodology for analysing energy consumption
The decomposition of changes in energy consumption
Sectoral coverage
Annex C. References
Annex D. Abbreviations, acronyms and units
List of figures
Figure A.1: The IEA indicator pyramid
Figure A.2: Industry sector pyramid
Figure A.3: Residential sector pyramid based on floor area
Figure A.4: Residential sector pyramid based on household
Figure A.5: Service sector pyramid
Figure A.6: Passenger transport sector pyramid
Figure A.7: Freight transport sector pyramid
Figure B.1: Basic overview of factors in CO2 decomposition
Figure B.2: Disaggregation of sectors, sub‐sectors and end‐uses in
IEA energy indicators approach
List of tables
Table 1: Industry data needed to develop basic energy and energy efficiency indicators4
Table 2: Key indicators to understand trends in energy and energy efficiency in industry6
Table 3: Residential data needed to develop basic energy and energy efficiency indicators0
Table 4: Key indicators to understand trends in energy and energy efficiency in residential 2
Table 5: Service data needed to develop basic energy and energy efficiency indicators6
Table 6: Key indicators to understand trends in energy and energy efficiency in services 7
Table 7: Passenger transport data needed to develop basic energy and energy efficiency indicators 0
Table 8: Key indicators to understand trends in energy and energy efficiency in passenger transport 1
Table 9: Freight transport data needed to develop basic energy and energy efficiency indicators3
Table 10: Key indicators to understand trends in energy and energy efficiency in freight transport 5
Table B.1: Summary of variables used for the decomposition
with TOC BookMarkLinks