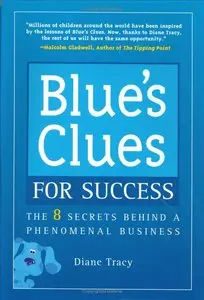 Diane Tracy - Blue's Clues for Success: The 8 Secrets Behind a Phenomenal Business
Kaplan Business | 2002 | ISBN: 079315376X | Pages: 288 | PDF | 10.96 MB
Executive coach Tracy presents a hybrid case study/business guide based on the creative culture of Blue's Clues, the highly popular children's cable TV show featuring an animated puppy and her 20-something live male sidekick. Tracy was called in as a consultant to the show for reasons never explained. She gushes, "I looked for some glaring weakness and could not find it." Blue's Clues, which hit the airwaves in 1996, now has over 13 million viewers in 60 countries and had earned about $1 billion in licensing products in the year 2000 alone. Such success provides much rich case study material. The book's strongest sections describe how the story lines and animation are developed. Parents, teachers and business people will also be interested in the company's innovative approach to market research and testing (e.g., Blue's Clues researchers found that preschoolers have a longer attention span and a stronger need to interact with characters than previous shows like Sesame Street had provided). No one featured either inside or outside the company has anything critical to say, however, and the narrative tone is weakened by sidebars containing viewer fan letters and testimonials from the show's staff (employee Alice Wilder says working there "is a dream come true"). While catchy tips (have a "strong vision" and a "net for each other") and relentless optimism may be appropriate in, say, one of the show's recruitment brochures, Tracy's tone may be less then optimal for discerning executive readers. Photos.